Coronavirus live updates April 15: Here's what to know in the Dallas-Fort Worth area
This article has Unlimited Access. For more coverage, sign up for our daily coronavirus newsletter. To support our commitment to public service journalism.
We're keeping track of the most up-to-date news about the coronavirus in the Dallas-Fort Worth metro area. Check back for updates.
WHEN COULD BUSINESSES OPEN IN TARRANT COUNTY? HERE'S AN IDEA, IF CORONAVIRUS FLATTENS OUT
Stay-at-home restrictions appear to be "bending the curve" of novel coronavirus cases in Tarrant County — and County Judge Glen Whitley said there's a chance some restrictions could be loosened early next month.
"These actions our county have taken have really impacted the way this outbreak has emerged in Tarrant County," Public Health Director Vinny Taneja told commissioners Tuesday during their weekly meeting. "There is clear evidence we are doing the right things."
He noted that cases are doubling about every four days and new projections from Covid Act Now show the peak of coronavirus cases might not hit here until June.
"Keep staying at home," Taneja said. "We're doing the right things in Tarrant County and we need to keep the course."
Whitley said he doesn't believe restrictions will be loosened this month, but said there's a possibility that they could in May.
He said he's been talking about how "we are going to come out of this" with area county judges, hospital officials and the North Texas Council of Governments.
"We need to be consistent," Whitley said. "We really need to listen to the health care providers, the physicians, epidemiologists, the same folks who told us what we needed to do in order to bend the curve and to potentially get ahead of this."
LOCKHEED EMPLOYEE HOSPITALIZED WITH CORONAVIRUS WORRIES IT WILL CONTINUE TO SPREAD
Anthony Melchor has to take long breaks between sentences to catch his breath. When he speaks, his words are interrupted as he inhales deeply.
"It feels kind of like a burning, itching in my throat," he said on Tuesday. "You think you're breathing fine but you know you're not."
Melchor is one of eight Lockheed Martin employees who have been diagnosed with COVID-19. He's been hospitalized since Saturday and doesn't know when he'll make it home.
"My oxygen levels aren't high enough, so they're waiting for that," he said.
Late Monday night, Melchor said he couldn't sleep, so he started a Facebook Live to update his friends and family on his condition. The video opens with him coughing. He's on a hospital bed, a sheet covering his chest and oxygen tubes coming out of his nose.
"Didn't want to start off the video like that," he says jokingly, when he caught his breath. "I just wanted to check in with everybody."
Melchor, who applies coatings to aircraft, started noticing symptoms on April 4, the same day another Lockheed employee, Claude Daniels, reported he was experiencing COVID-19 symptoms. Daniels later died due to the virus, colleagues have said.
Melchor said he was surprised he became infected, and began to worry when he woke up Saturday with a migraine.
FWISD BOARD VOTES TO BUY THOUSANDS OF COMPUTERS, HOT SPOTS FOR STUDENTS LEARNING AT HOME
The Fort Worth school board voted unanimously Tuesday night to buy thousands of computers in an emergency purchase for elementary school students who need devices and internet access for at-home learning.
The district plans to purchase 3,160 Chromebooks for nearly $1.2 million and spend another $1.3 million on 6,000 hot spots with 3G mobile plans and access to the district's learning network.
Texas schools are closed until at least May 4 because of the coronavirus pandemic.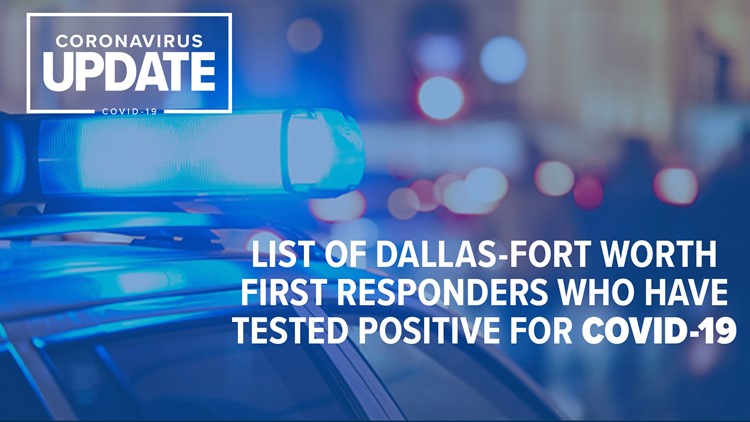 "Access to a device is critical for support of the district's Learning at Home initiative during the mandated state and county COVID-19 school closure," FWISD Chief Academy officer Jerry Moore said in a statement.
The devices will be transitioned to the 1-to-1 device implementation for fifth-graders once school reopens, the district said.
Some of the $2.5 million expenditure will be offset by private individuals and community organizations.
FOUR MORE CORONAVIRUS DEATHS IN FORT WORTH RAISE TARRANT COUNTY TO 29 TOTAL; 929 CASES
Tarrant County confirmed four more coronavirus deaths on Tuesday, all residents of Fort Worth.
All four patients had underlying health conditions, including a man in his 70s, two men in their 80s and a woman in her 80s. The county has confirmed a total of 29 COVID-19-related deaths so far, including 16 in Fort Worth.
The county added 53 new pandemic cases Tuesday for a total of 929 confirmed cases in Tarrant County, including 103 recoveries.
Almost 60% of the COVID-19-related deaths (17) in the county have been patients 65 or older, despite that age group making up about 20% of the total cases in the county. Nine deaths have been patients between 45 and 64, and three deaths were patients between 25 and 44.
Among the 25 deaths reported through Monday, nine were white, seven were black, seven were Hispanic and two were Asian.
"We are saddened by every death that occurs because of this virus," Tarrant County Public Health Director Vinny Taneja said in a news release. "Our best hope to save lives in the future is to persevere; keep following the guidelines, and we will emerge stronger than before."
DALLAS COUNTY CONFIRMS SINGLE-DAY HIGH OF 10 CORONAVIRUS DEATHS, INCLUDING MAN IN HIS 30S
Dallas County reported 10 more coronavirus deaths on Tuesday, a single-day high.
There have been 42 COVID-19-related deaths in the county and 1,877 confirmed cases as of Tuesday, an increase of 89 cases from Monday.
Five of the 10 patients whose deaths were announced Tuesday were residents of long-term care facilities in Dallas.
A Garland man in his 30s was among the 10 deaths. He had been in critical condition at an area hospital. Three of the patients were in their 80s, three were in their 50s, and one each in their 60s, 70s and 90s. The deceased also included residents of Mesquite and DeSoto.
Most of the patients were hospitalized. The DeSoto man, in his 80s, was found dead at his home, county officials said.
"My heart goes out to their families and all who are suffering during this pandemic," Dallas County Judge Clay Jenkins said in a news release. "Evidence continues to mount that the aggressive move to shelter in place on March 22 is flattening the curve in Dallas County and North Texas. We are in the middle of this fight and we must not waver from the exercise of sound personal decision-making and smart physical distancing."
DENTON COUNTY CONFIRMS 14TH CORONAVIRUS DEATH, 14 NEW CASES FOR TOTAL OF 521
A male resident of the Denton Rehabilitation Center who had been hospitalized is the 14th coronavirus-related death in Denton County.
The man was older than 80, according to health officials.
The county confirmed 14 new COVID-19 cases for a total of 521, including 189 recoveries and 14 deaths. There were no new cases reported among residents or staff at the Denton State Supported Living Center, which serves people with intellectual and developmental disabilities of all ages.
Fifty-three residents and 47 employees of the DSSLC have been infected during the pandemic.
There are also 17 residents of long-term care facilities across the county who have tested positive.
Among the total cases, 91 are residents of Denton (not including the 53 residents of the DSSLC), 54 are residents of Carrollton, 50 live in unincorporated Denton County, 39 live in Little Elm, 38 live in Frisco, 37 live in Lewisville, and 34 live in The Colony.
TARRANT CHURCHES TOGETHER TO HOST INTERFAITH DAY OF PRAYER
Tarrant Churches Together is bringing several key faith-based leaders from around the world for an Interfaith Day of Prayer, according to a news release. The group is asking the community and world to join in for a time of prayer, meditation, or silence at noon on Sunday, April 19.
"Our Interfaith Day of Prayer event is to inspire others to keep faith and hope alive in the midst of the health pandemic crisis. With your prayers we can successfully raise the awareness about how to mitigate the effects of COVID-19," said Rhonda Branch Yearby, executive director of TCT. "We are honored to serve our communities of faith in prayer to unite us all and offer hope to the world."
For more information, please visit tarranttogether.org, or call or email Rhonda Branch Yearby at 817-888-6388, rhondaby@tarranttogether.org.
Tarrant Churches Together, founded in the early 1950s, is an inter-church nonprofit organization dedicated to connecting congregations and the community to affect and address unmet needs in Tarrant County, the release says.
GOP LAWMAKERS CALL ON ABBOTT TO LOOSEN RESTRICTIONS, RESTART ECONOMY AMID CORONAVIRUS
Hardline conservative lawmakers are calling on Gov. Greg Abbott to scale back statewide restrictions amid the novel coronavirus' spread in an effort to restart economic activity.
Members of the Texas House Freedom Caucus sent a letter Tuesday to Abbott, who is also a Republican, requesting he loosen his executive order "to the greatest extent possible while giving local jurisdictions the flexibility to respond to local conditions."
On March 31, Abbott issued an executive order requiring Texans to stay home through April unless participating in activities deemed "essential" by the state.
Of the nine Republican members who signed the letter, four are Tarrant County-area lawmakers, including Reps. Matt Krause of Fort Worth, Tony Tinderholt of Arlington, Bill Zedler of Arlington and Mike Lang of Granbury. The caucus' letter says it's up to elected officials to ensure freedoms are protected, while "it is ultimately the individual Texan's responsibility" to ensure they keep themselves and others safe by wearing masks, cleaning surfaces and abiding by social distancing guidelines.
"Texas can gradually begin to ramp up, while those with underlying conditions continue to shelter-in-place until the need no longer exists. Regardless, it is time to give more businesses the same opportunities to open for business while mitigating risks," the letter reads.
COLLIN COUNTY REPORTS 8 NEW CORONAVIRUS CASES, LOWEST DAILY NUMBER IN TWO WEEKS
Collin County reported just eight new coronavirus cases on Tuesday, its fewest single-day total in more than two weeks.
The county confirmed six new cases on March 29 but had not reported fewer than 12 new cases in a day since. The case numbers spiked with 37 on April 7.
The county has had 477 confirmed cases, including 10 deaths and 277 recoveries. Of the current 190 patients, 21 are hospitalized and 169 remain in home isolation.
Almost 2,600 people have tested negative for COVID-19 in the county and 812 people are being monitored by health officials.
PARKER COUNTY REPORTS 14 CORONAVIRUS CASES THROUGH MONDAY, WITH 7 RECOVERIES
Parker County has confirmed 14 coronavirus cases, including seven recoveries, through Monday.
All 14 pandemic cases were contracted through community spread.
Weatherford has reported five cases, including three recoveries, and Azle has reported three cases and one recovery. Single cases in Springtown, Peaster and Lipan have been reported as recovered.
The seven active cases include two each in Weatherford, Azle and Willow Park, and one in Reno. All active cases are in home isolation and include four patients in their 60s, one in her 50s and two in their 30s.
The county has reported no COVID-19-related deaths.
JOHNSON COUNTY REPORTS FOUR MORE RURAL CORONAVIRUS PATIENTS, 10 TOTAL
Johnson County confirmed four more coronavirus cases in unincorporated parts of the county on Tuesday for a total of 39.
Burleson has confirmed 21 cases, including three patients who have recovered. The age range in active Burleson cases is between 14 and 80. One of the Burleson patients lives in Tarrant County and is not counted in the Johnson County total.
There have been 10 COVID-19 patients in unincorporated Johnson County, five in Cleburne and one each in Keene, Venus, Joshua and Mansfield. The Mansfield patient recovered last week.
Source -
https://www.star-telegram.com/news/coronavirus/article242020691.html